Wine, the Brain and Memory: A Brief Guide to Our Sensory Experience
Last week I had the pleasure, as I thankfully often do in this line of work, of tasting a glass of a truly beautiful wine. It was a premier cru Chablis, a wine known, according to our tasting notes, for its crisp acidity, freshness, minerality and aromas of pear, lemon and oyster shells. I found in tasting it, however, that what entered my mind were not descriptions of obscure aromas, but rather an overall picture of a very specific physical location. This one glass of wine conjured a vivid mental image of a barren, cool, windswept sand beach. I could taste the salt water in the air, feel the cool bite of the wind, and rub the fine grit of the sand I was standing on. I could see the whitecaps, the grey overcast sky, and the sun just piercing through enough to light up the brush growing on the dunes. It was a wonderful, nostalgic experience for a place that I don't think I've ever actually visited, or that actually really exists. This is not necessarily a strange experience for me. I have very fond memories of pinot noirs that evoke film noir-esque cocktail lounges, Chiantis that suggest drinking hot chocolate by a fireplace, and even one unusual red from Vermont that brought me straight to a New England apple orchard in the fall.
Now, this may all seem a little (a lot?) ridiculous. That's completely fair. It is exactly this kind of overblown romanticism that quite honestly turns many people away from wine. It creates a perception of both pretension and absurdity that, not coincidentally, is frequently equaled only by the absurdity of the prices of the wines being tasted. Nevertheless, I like to believe that the very visceral responses that I've had to not only the Chablis, but many other wines, are not just a product of some exaggerated fantasy of what wine is or should be. So, in order to justify my romanticism, I delved a bit into the neuroscience and psychology of taste, smell and memory to see where wine might fit in.
Fair warning: this little essay is relatively long and somewhat technical, although I have done my best to keep things light and readable. I hope you stick with it and find this all as interesting as I do! So, without further ado, I present,
Wine, the Brain and Memory: A Brief Guide to Our Sensory Experience
First things first; when it comes to wine, aroma is king. Yes, yes, we all talk a good game about tannins, body, color, palate, and all those other wonderful little tactile details that wine puts forward. These elements are certainly critical contributors to the overall experience of wine drinking. However, when it comes down to the science of our perception of wine, there are good reasons why smell is the most important sense we have. First of all, very little of our taste comes from our tongue. The tongue itself is extremely specialized to detect five basic elements of food or drink: sweetness, saltiness, sourness, bitterness, and umami (try tasting pure MSG to get an idea what umami is like). In terms of wine, your tongue can tell you if a wine is high or low acid (like, say, an electrically acidic dry Riesling versus a softer oak-aged chardonnay). It can also tell you if it is high or low tannin, as tannin is often an additional source of bitterness. Finally, it can tell you whether a wine is sweet (say, Port), or bone dry (say, a California cabernet). This perception, cannot, however discern subtle differences, or even large differences, in flavor outside of these simple categories.
So, where does all of the beautiful complexity of flavor that wine presents come from? As you probably can guess, the simple answer is the nose. As you drink, the flavors of the wine are carried through the air (conveniently volatilized by alcohol), both straight from the glass and from your mouth, up to your nose and into a small membrane inside your nose known as the olfactory epithelium. In the epithelium lies a large group of cells (about 5 million of them!) that are designed specifically to detect odors. These cells contain molecules in their outer membrane that literally grab on to odor-creating chemicals, creating an electrical impulse that is transmitted to the brain itself. Importantly, while the tongue has five basic receptor types, the human nose is thought to have approximately 1000. Furthermore, each of these receptors is capable of detecting thousands of different odor molecules, meaning that each individual cell in the olfactory epithelium transmits a unique message to the brain about the presence of any number of thousands upon thousands of possible aromas.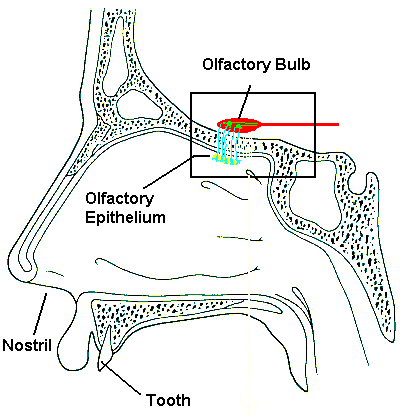 This precise olfactory ability comes in handy when smelling or tasting wine, as wine itself possesses an unknown, and extremely high, number of aromatic compounds. Interestingly, some of these have been identified, and provide neat clues as to why some wines smell certain ways. For example, a class of chemicals known as methoxypyrazines are thought to be responsible for the grassy herbaciousness of some sauvignon blancs. Furthermore, a lovely molecule known to chemists as 4-(4-Hydroxyphenyl)butan- 2-one, or "Raspberry Ketone", is present and aromatic in both red raspberries and many red wines. Vanillin (of vanilla fame) is in many wines due to oak aging; diacetyl is a byproduct of fermentation that is also used as an industrial butter flavoring; zingerone lends its spice power to both ginger and syrah. But for every compound identified, there are hundreds, if not thousands, more in wine that can tickle those 5 million receptor cells, creating an infinite number of aroma possibilities that is different for each glass of wine poured.
Now, when you smell a glass of wine, all of those receptor cells start sending all of their complex signals to your brain, creating a frantic mess of impulses to an area of your brain known as the olfactory bulb. But the olfactory bulb does something pretty cool to process all of that chaotic input. By segregating signals from specific types of receptor cells, the olfactory bulb can gauge the relative strengths of the smells each type perceives. Furthermore, the strength of the signals from one type of receptor cell can override the inputs from other, less active types, effectively filtering out the noise and creating a streamlined neural representation of the wine's aromas. Like highlighting important passages in a book, the olfactory bulb creates a concise and perceptible overview of the aromas present, allowing for more effective mental processing.
The neural journey of wine aromas does not, however, end in the olfactory bulb, and this is where things get really interesting. From the olfactory bulb, the signal diffuses all over the brain, activating many different regions responsible for a number of different functions. The regions that receive strong olfactory input include the primary olfactory cortex, responsible for higher level odor processing and conscious recognition of certain odors. It is this area, in conjunction with the language-producing systems of your brain, which allow you to smell "raspberry ketone" and identify it as a raspberry smell. In addition, the olfactory bulb strongly activates the hippocampus, an area that is critical for the formation of memories. Finally, and perhaps most interestingly, the olfactory bulb has very strong direct connections to a network in the brain known as the limbic system, which has been shown to be directly responsible for the generation of emotional responses.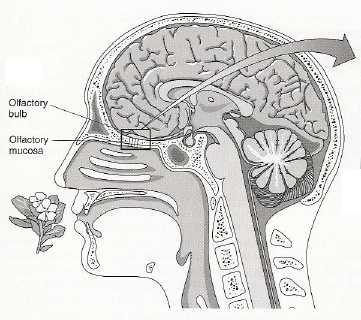 So, let's put all of this together. When smelling or tasting a glass of wine, your olfactory bulb puts together a streamlined snapshot of the phenomenally complex aromas present in that particular glass. This signature will almost certainly be unique to that particular wine, due to the sheer number and variation of aromas present across the spectrum of world wines. Perhaps more importantly, this signature will be unique for each individual person that tastes the wine. Remember those 5 million receptor cells in the olfactory epithelium? The relative proportions of the 1000 receptor cell types that make up those 5 million cells vary heavily between individuals. Very simply, this means that I do not smell a wine the same way you do, and neither of us perceive that wine the way your neighbor, or your sister, or certainly your dog do.
This concept of individual perception becomes even more important when we continue past the olfactory bulb into the deeper regions of the brain. The unique signal from the olfactory bulb activates the hippocampus (memory), the olfactory cortex (conscious perception) and the limbic system (emotion), among many other regions. These regions themselves are very strongly interconnected. So, what we have is essentially a network assembly of interconnected circuits involving perception, memory and emotion, all simultaneously activated by the aromas of the wine. This type of network is, in neuroscience, called a Hebbian cell assembly (after Canadian neuropsychologist Donald Hebb), and is known to have some amazing properties.
Take a look at the above diagram of a theoretical Hebbian assembly. The arrows represent the direction of communication between circuits, where the numbers represent the sequential order of activation. In a Hebbian circuit, when connected nodes are activated simultaneously, the connection between them is strengthened, and requires a lesser input to reactivate. Likewise, if two connected nodes are rarely simultaneously activated, the connections between them weaken. See where I'm going with this? Because smell is so strongly connected with emotion and memory, my nostalgic beach image from tasting the Chablis is essentially the activation of a Hebbian assembly in my mind: one that includes nodes for nostalgia, the beach, wind, etc. Because, for whatever reason, those smells have been associated in my past with those particular visual and emotional elements, it took very little input for the Chablis to reactivate the assembly, giving me the unique perception I described before.
When you consider it, this is a beautiful thing. Every person who tastes a wine, who concentrates on its flavors and aromas, may have a radically different response to the person next to them. While my Chablis may conjure a cool, windy beach, yours may be a cactus in the desert, or a log cabin, or your childhood bedroom. It is this reason why to me wine IS an overly romantic experience, and for me is tied in inextricably with my own life experiences. And remember, rather than being a shared romance, this type of wine experience is in fact fiercely individual, and perhaps impossible to duplicate. It is outside of the critics, outside of the wine-speak world, free from judgement and rooted firmly in your own tastes and perceptions. So, next time you taste a wine, concentrate hard and see where, or when, or to whom it takes you. Who knows what Hebbian assemblies are just hiding waiting to be activated?