Serve at What Temperature?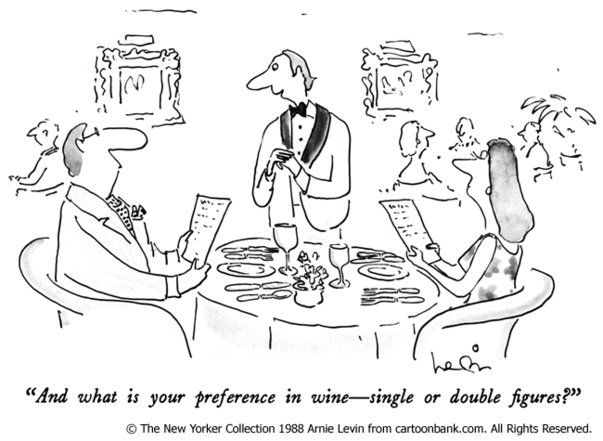 I have more than a few pet peeves regarding wine service. I prefer to pour my own wine, or water for that matter. I hate it when a wait person grabs a bottle from the table and then indiscriminately begins to pour without asking if the person being served would like more. I am not happy when a white wine is served ice cold and especially so when a red wine comes too warm.
It is amazing how many top quality restaurants on both sides of the Atlantic do not have the knowledge or, perhaps, the capability to store and serve fine wine at the correct temperature. How many times have you gone to a restaurant, not necessarily during the summer months, and been offered red wine that is warmer than room temperature? Where do they keep it, one wonders, under the stove? How many times have you gone to a fine restaurant and been served white wine already chilled to below 35 degrees with the wine person poised to stick it in an ice bucket. It is one thing if, on a summer's day, you are having an inexpensive white that may be perfectly acceptable ice cold. However, if you were having a more expensive white, from wherever, you would like to experience its inherent complexity that would not be apparent if served too cold. Needless to say, we don't want warm white wine either.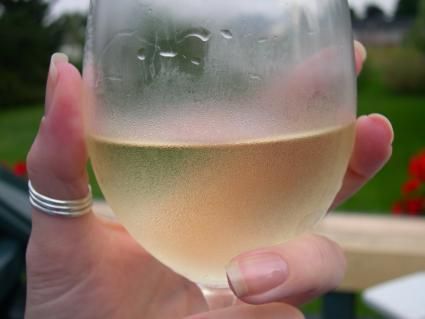 At least with white wines you can let them warm up at the table if too cold or put them in an ice bucket ½ ice - ½ water, if not chilled enough. Red wine served too warm/hot will seem flabby, out of balance and overly alcoholic. Sticking it in an ice bucket will certainly cool it down fast, but I have found that by chilling it too fast, the wine may get "shocked" and go into a protective shell, meaning you will lose flavor and aroma. At restaurants, with younger reds, I may reluctantly do so, but at home putting the wine in the fridge for 20-30 minutes may be less stressful for the wine and work better, again only with younger wines. What do you do if you order a red wine by the glass and it comes warm? It happens frequently. It may seem blasphemous but I've resorted to putting ice in the wine.
Here's the deal: The easiest way to enhance wine enjoyment is to serve it at the correct temperature. High quality reds and whites, especially Burgundies, should both be served at nearly the same temperature. In an ideal world that would be somewhere between 48-60 degrees for red,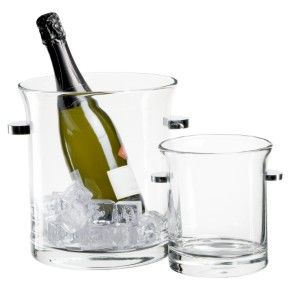 45-50 degrees for white. Wines should be served less cool during winter months and cooler in the summer. I love seeing a red wine beaded with "sweat" on a summer's day when brought up from the cave and set on the table. It is refreshing served cool and it gains complexity as it warms. If a white wine is brought straight from the fridge and is too cold, you only have to cradle the glass in your hands to let your body heat warm it naturally.
So try your red wines at home a little cooler than usual and your white wines a little bit less chilled. Note the flavor variations as the wine changes temperature.
Here's blog I found on line when searching for images.
You gotta love it.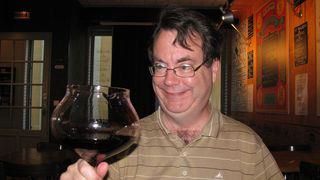 If you invite a wine geek over to your house and pull out a bottle of wine to serve, expect him/her to ask to hold it and look at it before you open it. This allows the wine geek to do two things they enjoy more than actually drinking the wine-scrutinize the varietal, producer, region of origin, label art, etc, and correct the temperature you are about to serve the wine at.
Many Americans who have a bottle or two of wine at home believe that white wines should be served cool and red wines should be served at room temperature, and that is enough for them. That, however, is not enough for wine geeks. If you pull a bottle of red wine from your kitchen counter where it has been stored and hand it to the wine geek, expect them to say "How about we put this in the fridge for a few minutes to put a chill on it. You know, when they say to serve to red wine at room temperature, they mean room temperature for a Scottish castle. You know, 60 degrees. So fridge? Yeah?" They will put the bottle in the fridge as say they those sentences nonstop without giving you time to answer.
It may seem, then, that storing your red wine in the fridge is the best course of action. This choice, however, is equally fraught with peril. Leaving your wine in the fridge will cool it to well below 40 degrees, a temperature even less acceptable than room temperature 70 degrees. This is true for white wines, as well. If you pull a bottle of white wine directly from the fridge that feels very cold, the wine geek will say "White wine should be cold, but not this cold. 53 degrees is the ideal temperature to experience the maximum amount of character an aromatic white like this is capable of expressing."
If you do chill the wine for too long in the fridge, expect the wine geek to insist on letting the wine warm up before you serve it. You may leave the bottle on the counter, pour the glasses and leave them on the counter, or pour the glasses and hold them without actually drinking from them. If you go with the last of those options, feel free to smell the wine as often as you like and say things like "It's getting there," "It's opening up," or "Ooh, this puts the 'Yay!' in Viognier." During this time you should tell the wine geek that you are considering getting a wine cave, but just haven't found the right one yet. The wine geek will relish the solidarity of learning that, yes, it is hard to find space and money for a mini-fridge/humidifier devoted entirely to storing a few bottles. Let the wine geek be the first to actually drink the wines you are holding. He/she will be satisfied knowing you waited on them to declare it an appropriate temperature.
This may seem like a lot of work, so consider it an investment-if you let the wine geek feel that the countless hours they have spent studying wine have paid off as soon as the bottle is presented, they may feel validated and not feel the urge to correct anything else for the rest of your time together.
Here's a useful blog from Tunanga Creek Winery that I found when searching for images.
How to serve wine at the best temperature?
Wine needs to be stored and served at the right temperature to achieve the best possible taste. Because wine is perishable, storing it at extreme temperatures will damage it.
It's safe to say that most kiwis serve their reds too warm and their whites too cold. Serving wine at the correct temperature is a bit of a challenge. The old adage 'serve reds at room temperature and refrigerate whites' doesn't hold true. If you serve a wine too cool, the flavours will be disguised and if you serve wine too hot alcohol becomes the dominant taste.
Serving a wine at the right temperature is a hard task as you have to take into account several elements like: the presence of tannins, the structure of the wine, its age, the style of the wine...etc
However, to give a few advices, the table below shows advices on serving temperatures according to the variety you are drinking:
39 deg Warm bath
15 - 17 deg 'Complex' Syrah, Pinot Noir, Cabernet Sauvignon, Merlot, Malbec
14 - 16 deg 'Easy drinking' Pinot Noir, Cabernet Sauvignon, Merlot, Malbec
10 - 12 deg Rose wines
11 - 12 deg Chardonnay, Viognier, Chenin Blanc
9 - 11 deg Riesling, Sauvignon Blanc, Pinot Gris
7 - 10 deg Champagne, Dessert wines
2 - 4 deg Fridge temperature
The ideal serving temperature for red wines is around 14ºC to 18ºC, which is cooler than most homes. Therefore we recommend sometimes placing reds in the fridge for about half an hour before serving.
The ideal serving temperature for white wines is around 7ºC to 13ºC, which is warmer than most fridges (typically 4ºC). We recommend storing whites in the fridge and removing them 1 hour before serving. Unless of course you are serving a cheap white then perhaps leave it in the fridge right up until serving to disguise the poor quality!
And, if you have wine leftover consider storing it in the fridge as it will last between 5 to 10 times longer.